When I played the original Resident Evil back in the 90s, it was a game I'll always remember and love. The unique camera angles, the fear of what's behind a door or around the corner. The tension of trying to get to a save room at low health. I fell in love with it. As the series went on however, I started to notice a deviation away from the original atmospheric horror roots of RE. Believe me, I loved 4. It's one of my favorites in the series. But the series just got more and more ridiculous from there, with Resident Evil 6 being a bombastic mess of explosions and weak gameplay. When Resident Evil 7: Biohazard was announced, I was very intrigued and excited. I liked the approach to first-person, and the echoes of PT. Many people said that Capcom was 'cashing in' to the first-person horror genre, and trying to copy Outlast. But Capcom could very well have made another RE6, with Leon and company. RE6 sold so much more compared to Outlast, and Capcom took a big risk here. In the end, it paid off in spades, with Capcom delivering one of the best entries since 4.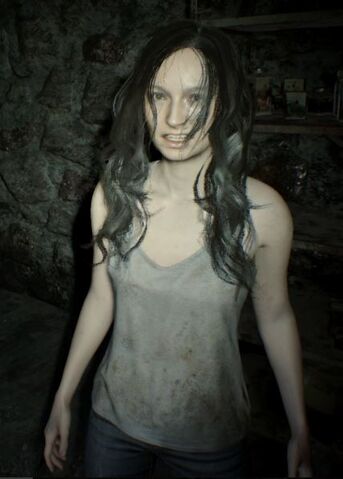 So you play as Ethan Winters, a man whose wife has been missing for over 3 years. He receives a strange message from her telling him to stay away, but Ethan goes to find her at the Baker farm in Dulvey, Louisiana. Throughout the story, Ethan feels rather weak. He doesn't have much personality or depth to him. Rather, he's seemingly taking the role of the player, kind of like Ajay Ghale in Far Cry 4. He's really just a cipher for the player to imprint themselves onto. The other characters, however, are really interesting, unique, and well-written.
The Bakers are entertaining and memorable villains, with (most) members having their own distinct quality. For example, Lucas is kind of like Jigsaw, setting up traps and puzzle rooms for his victims. Jack is an unstoppable tank, constantly pursuing and taunting you. Marguerite can control a swarm of insects with a lantern, and send legions of them against you. However there is one member, Zoe, who is really flat. She doesn't have much of a personality. She gives you tips and objectives throughout the game, but other than a voice on the phone, she's not much of a character compared to her family.
But the Bakers keep the game fresh and entertaining until a point later on in the story that is packed with exposition. The game slows down and becomes less engaging. It seemed to lose steam at that point. Towards the end, the game fully embraces the action game route, with the player blasting down enemies with shotgun shells and remote bombs. And the game handled it in an excellent way. The change didn't feel jarring or odd, it felt like it flowed from hide-and-seek horror to RE4 action seamlessly.
The bosses in the game are also fun. I won't dare spoil my favorite one, but it involves a chainsaw. However I was disappointed in the final boss. I was expecting a bit more from it. The ending as well was also disappointing. It admittedly felt abrupt. I didn't really have time to react to the previous events as the story just chugged along to the ending. Ultimately the story is overall solid and remains mostly engaging throughout.
The combat has a certain weight to it that makes it feel like Resident Evil. You have to save and conserve your ammo as much as possible, and have to place your shots very carefully, especially in Madhouse difficulty, where every bullet is essential. Ethan is not fast-moving, he's stiff and slow, which in the end is a good thing and adds to the unique combat style in RE7, rather than take away from it.
Make sure you Check out our YouTube Channel for some lets plays!
Now, the game does contain puzzles, however don't expect an abundance of them. They will largely consist of shadow puzzles, where you have to rotate an object around a light to create a certain shadow. The most memorable puzzle, though, comes in the form of a VHS tape. The VHS tapes you find in the game are side missions of sorts. They allow you to get the edge on the Baker family. One tape could show you the location of a hidden door. Another could show you a puzzle solution. They are optional, but are highly recommended to make your playthrough more complete and to gain a better understanding of the story.
Ultimately Resident Evil 7: Biohazard is RE1 on the current generation consoles in first-person, featuring rednecks and mold monsters instead of zombies. It is the first entry since the original and 0 to really go back to the horror roots that made Resident Evil so great. RE was never about B-movie dialogue. Because if you played the original RE back then, it was scary. There was no other game like it then. Of course now, it's not as effective since we have games like Amnesia, Until Dawn, or Alien Isolation. The game is dated. But 7 is a solid return to form, and an amazing way to kick off both 2017 and AAA horror games for the year.
Positives:
Tense and Immersive Combat,
Unique World/Level Design
Fun Bosses
The Baker family
Negatives:
The Ending,
The Main Character
The Later Parts Of The Game
Resident Evil 7: Biohazard Receives a 9/10